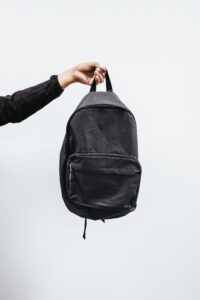 Here in Florida, we just never know when it might be "go" time, which is why it's essential to always be prepared. As hurricane season rolls in, there are some important steps we must take to best protect our property and those we love.
As you consider your needs and responsibilities in terms of what you must do in order to prepare for hurricane season, make sure restocking your hurricane go-bag is one of them. At times, evacuation is essential and you may not always have much warning. Be prepared to leave at a moment's notice by packing an emergency evacuation bag now. Below are some essentials FEMA recommends you put in your bag.
What to Include in Your Hurricane Go-Bag
One gallon of water per person, per day for at least three days.
Three-day supply of nonperishable food and a can opener if you are including canned food.
Battery-powered or hand-crank radio and an NOAA Weather Radio with tone alert and extra batteries for both.
Flashlight and extra batteries.
First-aid kit.
Whistle to signal for help.
Dust mask to filter contaminated air.
Plastic sheeting and duct tape to shelter in place.
Moist towelettes, garbage bags, and plastic ties for personal sanitation.
Wrench or pliers to turn off utilities.
Prescription medicine, contact lenses, and any prescription glasses.
Diapers and infant formula for babies.
Pet supplies and food.
Waterproof container to store important documents (also save what you can to the cloud). Don't forget to take copies of your insurance policies and home inventory!
And with COVID-19 still being a threat, have face masks, gloves, hand sanitizer, and soap on hand for everyone in case you must evacuate to a shelter.
In addition to these items, consider your family's needs and space limitations. If you have room, consider bringing extra clothes, blankets, as well as toys, games and books for kids, and other important items to help keep your family a little more comfortable during a stressful time.
While we never know what storm season will bring, we can prepare today to make tomorrow a little easier. And if there is a storm and you find that your property has been damaged, get in touch with us first at Silverberg|Brito, PLLC. Our experienced team of Florida insurance litigation attorneys is ready to help you step-by-step during your insurance claims process and make sure that you receive your rightful claim distribution.