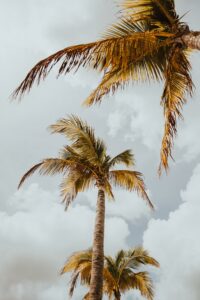 Across the globe, disaster planning has taken on a whole new meaning for many people, and while a viral pandemic like the coronavirus is certainly unique, we here in Florida have lived through other disasters and know what it's like to have our daily lives completely upended by a force wholly out of our control.
It is also why we know just how critical it is to prepare.
As hurricane season approaches, it's more important than ever to start preparing now. In addition to reviewing our five things you should do today to get your home ready for this year's hurricane season, below are some other important reminders for how to best prepare for what's to come when the winds start whipping and the rains begin barreling down.
Family first – Consider your family's vital needs as you begin making your plans. Your family's unique situation will dictate if you need any additional items in your emergency kit and if extra precautionary measures need to be taken.
Develop your plan – If you already have a plan, great, but you should review and update it annually – and make sure everyone in your family knows about it. FloridaDisaster.org has helpful resources for getting started. A few important items to have in your plan include identifying where you will go if you need to evacuate, updating your medications list (and ensuring that you have an adequate supply), knowing your evacuation route, and keeping important phone numbers handy.
Stock your emergency home kit and hurricane go bag – Make sure you replenish your emergency supplies, especially bottled water, a manual can opener and canned foods (don't forget food for your pets), batteries, flashlights, portable chargers, blankets, and a crank or battery-operated radio, among other essentials.
Safeguard your important documents – Your critical documentation must be safely stored. Those documents include your home inventory (photos and video of your property), insurance information, and other important personal possessions. Keep them in a watertight container and/or externally saved so they stay dry and well protected.
With hurricanes, we never can be quite certain the extent of damage we'll experience, but preparing now for the worst-case scenario is our best line of defense. And after the storm, if you do find that your property has been damaged, get in touch with us first at Silverberg | Brito, PLLC. Our experienced team of insurance litigation attorneys is ready to help you step-by-step during your insurance claims process and make sure that you receive your rightful claim distribution.