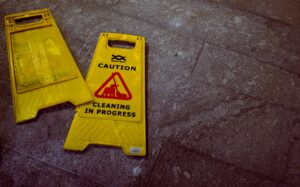 When disaster strikes, you need to call in the clean-up crew…fast! But, like all services you use, you'll want to first spend some time researching your options to make sure the company you hire will do a thorough and professional job. Damage of any kind, but specifically water damage, needs to be handled swiftly and attentively to prevent further damage to your property's foundation, flooring, walls, you name it. Given the new Assignment of Benefits Reform law, things are getting extra complicated.
What does a mitigation company do?
Mitigation companies are generally called in as quickly as possible after a disaster to help limit any further damage that could be sustained from the disaster's effects. For example, if your home's windows were broken, they would board up the windows as best they can until further restoration can be conducted. Water would be removed from flooded properties and other preventatives steps would be taken to stabilize the building and minimize subsequent damage until more permanent restoration can be made. Pursuant to your insurance policy, you must protect your property from further damage, and the right mitigation is perfectly situated to help.
What to look for in a mitigation company
As you evaluate options for which mitigation company to contract, keep some of these important qualities and qualifications in mind:
Professional – this includes not only the way the mitigation company conducts business but also their professional qualifications and credentials. A company that is licensed, insured, and has the requisite certifications and experience is important.
Responsive – when it's an emergency, you need help immediately. If the company can't accommodate your needs within an acceptable timeline or simply lacks communication skills, you may need to look elsewhere.
Limitations – confirm if the mitigation company has any limitations in place related to your specific insurance policy, coverage for mold, a payment cap, or other limitations. For example, if emergency mitigation services are performed, payment by the insurance company may be capped at $3,000. Be sure to ask about these concerns.
Getting the help you need as quickly as possible after a disaster is critical to preventing further damage to your property. It is also crucial to any homeowner's insurance claim in order to comply with the policy's conditions and properly document the damages. If you have questions about property damage and what steps to take after a disaster strikes your home or property, get in touch with us at Silverberg | Brito, PLLC.