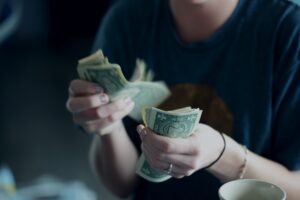 When you choose to rent or lease a property, you're making the choice to enter into a contractual obligation with a landlord. Every contract will have its differences, but a big part of nearly every renter's agreement is the security deposit. While not required by law (though there are laws to govern its application, specifically Florida Statue §83.49, most landlords choose to include a security deposit in their contract as a way of giving themselves some financial protection in the event that a tenant fails to pay rent or significantly damages the property.
Given its ubiquity in rental agreements and the numerous questions we hear about it from our clients, we thought it would be a particularly relevant topic to include in our tenants' rights blog series (check out what to know about wind and water damage, mold damage, and what's in your lease for other posts in the series).
Security Deposits 101
A security deposit is a one-time, refundable fee you pay your landlord when you enter into a rental agreement, and it usually accompanies your first month's rent payment. Deposit amounts can vary and may be influenced by factors such as if you have pets, what type of property it is, etc. Upon terminating the lease and vacating, the landlord typically has 30 days to return the security deposit.
When a Security Deposit May Not Be Returned
Both tenants and landlords have legal rights when it comes to the security deposit; however, they have the potential to come with many gray lines. Common reasons a landlord may choose not return the deposit include if the lessee terminates the lease early, fails to pay rent or utilities, causes significant damage to the property, or the landlord incurs abnormally high cleaning costs after the renter moves out.
How to Protect Your Deposit
Before signing any kind of rental agreement, it's wise to consult a real estate attorney. At Silverberg | Brito, PLLC, we help our clients decipher the legalese that is so common in contractual agreements and make sure they understand the terms fully – both in what they are committing to as well as what rights they are obligated to receive in turn.
A best practice to ensure you're protecting yourself from potential mistreatment down the road is to be meticulous with documentation. Take pictures and video of your property right when you move in, and make sure you hang on to receipts as well as any correspondence you have with the landlord. This documentation could prove invaluable if you need to pursue legal action at a later date.
Security deposits can be a contentious issue between landlords and tenants, but knowing your rights as a renter is the first step in protecting yourself. If you have questions about your security deposit or the terms of your rental agreement, get in touch with us at Silverberg | Brito, PLLC right away.